Why Sharpen Your Blades?
Why is keeping your blades sharp so important? Jay's Sharpening Service knows that there are numerous benefits to having your knives regularly sharpened. Browse through our list of reasons why you should have your blades sharpened by us, then call us to make your appointment.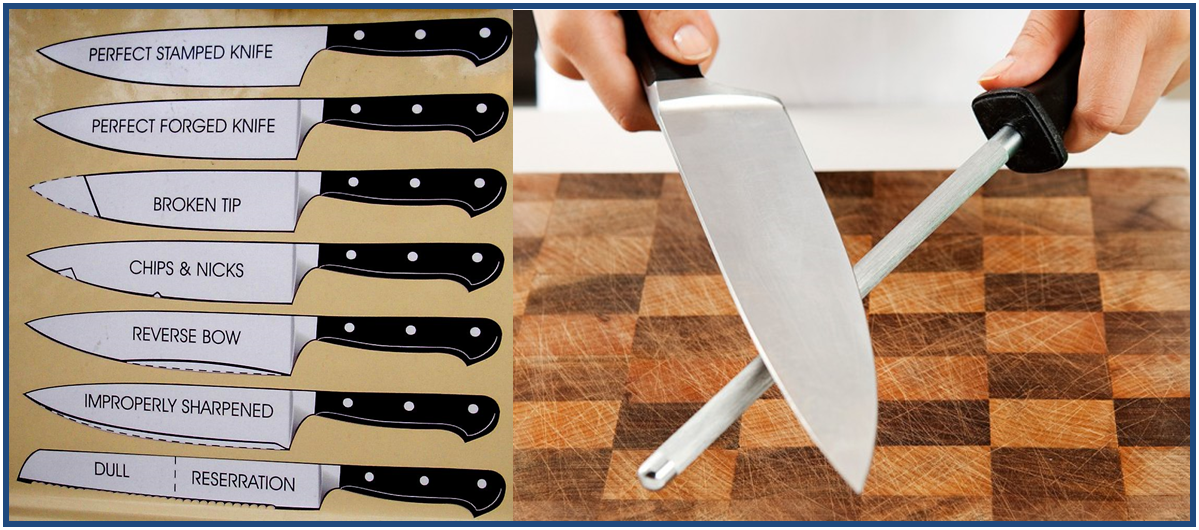 Sharpening Service Benefits
A Sharp Knife is a Safe Knife! Less Pressure is Used, Increasing Productivity, Minimizing Fatigue and Accidents, Lowering Medical Costs and Absences.
Cuts Kitchen Costs by having consistent tool and knife sharpening, repair& maintenance of slicers, food processing equipment, etc.
Enhances Food Preparation Making a More Aesthetically Pleasing Presentation, and decreasing Food Waste.
Reduces Time Away From Kitchen Employees Busy Work Schedules Trying to Sharpen Knives without Proper Equipment or Training.
We Offer Steak and Table Knife Sharpening and Re-Serration for Effortless Cutting of Steaks by Customers who will Experience a More "Tender" Feel When Cutting Their Food.
OTHER SERVICES
Mobile Service
Convenient "On Site" Professional Knife and Tool Sharpening Combining Traditional Methods with Cutting Edge Technology.
Reshaping Each Knife Bringing Them Back to Original Shape with Minimal Grinding On Blade.
Sharpening of all Food Processing Equipment Included in One Service Call.
Knife Exchange Service
Guarantees Knives are Ready to Use and Consistently Sharp.
Never Buy Knives Again! We Supply Sharp Knives on a Weekly/Biweekly Rotation Schedule. When the Knives Get Worn, We Replace Them at No Charge to the Customer.
We Furnish all Sizes and Types of Knives for Specific Uses Including Colored Handles to Prevent Cross Contamination of Foods.
Cutting Board Resurfacing & Replacements
All Work 100% Guaranteed.
New Custom Cutting Board Sizes and Colored Portable Replacements.
Elimination of Health Department Issues Providing Clean Sanitary Cutting Surfaces.
Resurfacing Increases the Life of Your Cutting Boards.
Slicer Maintenance and Repair
Our Slicer Repair Service Includes a Loaner Slicer Preventing Disruption of Food Preparation During Repair.